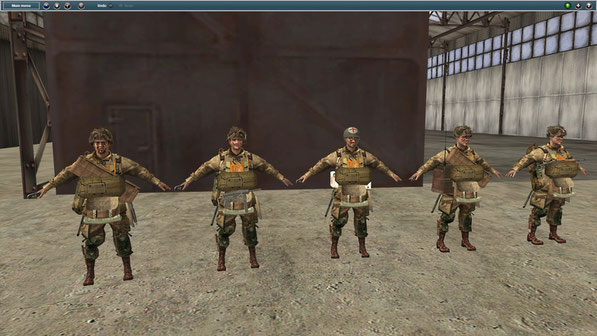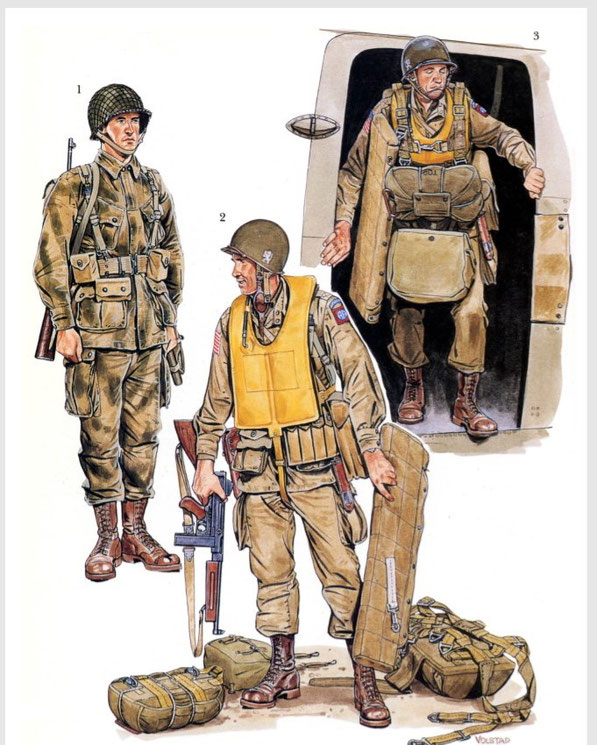 A bord des C-47 Dakota, les parachutistes forment un "stick" composé de 15 à 18 hommes en fonction des équipements transportés.
Au signal rouge le "Platoon Leader Jumpmaster" hurle :
Stand up
Hook up
Check equipement
Sound off for equipement check
Au signal vert c'est :
Stand in the door
"GO"
"GO"......
811 avions C-47 vont , pendant la nuit, larguer 14 238 hommes sur la côte est du Cotentin, établissant une tête de pont à Sainte-Mère-Eglise.
--------------------------------------------------------
On board the C-47 Dakota, the paratroopers form a "stick" made up of 15 to 18 men depending on the equipment transported.
At the red signal the "Platoon Leader Jumpmaster" yells:
Stand up
Hook up
Equipment check
Sound off for equipement check
At the green signal it is:
Stand in the door
"GO"
"GO" ......
811 C-47 planes go, during the night, to drop 14,238 men on the east coast of the Cotentin, establishing a bridgehead at Sainte-Mère-Eglise.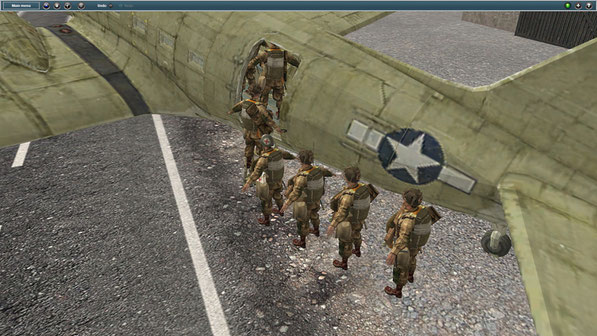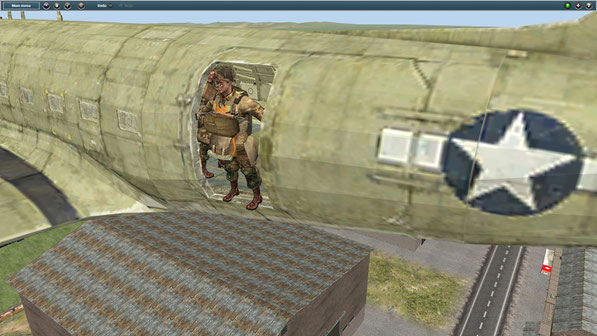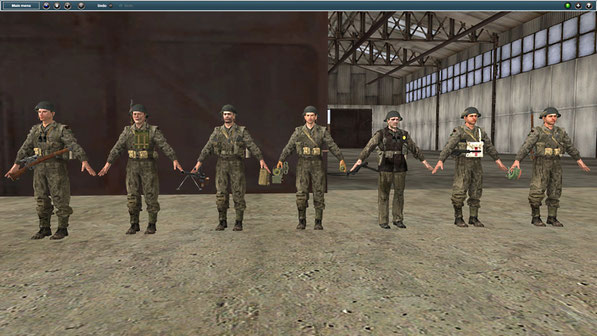 Débarqué en France le 26/07/1944 ce régiment Canadien de 1ére réserve est engagé à St Lambert sur Dives en Normandie pour la fermeture de la Poche de FALAISE .
Le 20 Août La 7éme Armée Allemande ainsi que le 5éme SS panzer Korps sont encerclés.
Les Canadiens sont équipés de matériels Britannique comme les paras Anglais ci-dessous.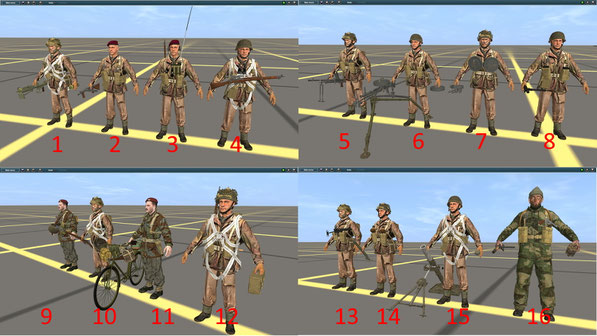 1-Rifleman with PIAT (Projector Infantry Anti-Tank)
 2-HQ Officer with STEN Mk III Wooden model, grenades MILLS N°36
 3-HQ Radio operator with Wireless set WS-38 (Transmiter/recever)
 4-Marksman with LEE ENFIELD and N°32 Mk III Sniper Scope
 5-MG Gunner with BREN (light machine gun)
 6-MG Gunner with BREN static tripod and K-gun pan magazine
 7-MG Gunner with VICKERS-K machine gun
 8-NCO (Non-Commissioned Officer) with STEN Mk II and MILLS grenades
 9-Rifleman with LEE ENFIELD Mk IV , MILLS grenades ans Spike bayonet
10-Rifleman with LEE ENFIELD and 2.5" cup Grenades MILLS dischager (range 200 yards)
11-Rifleman with BSA airborne folding bike.
12-Rifleman and also MEDIC with 2 first aid campaign medical bags
13-Rifleman with STEN Mk II
14-2 inch light mortar platoon
15-3 inch medium mortar platoon
16-S.A.S (Special Air Service) with STEN MkIIS (silenced), revolver Enfield 2 MKI and Dynamite 7 sticks bundle with fuse.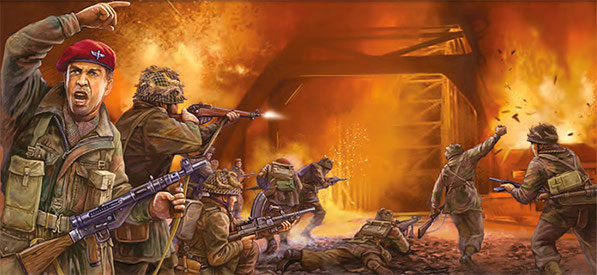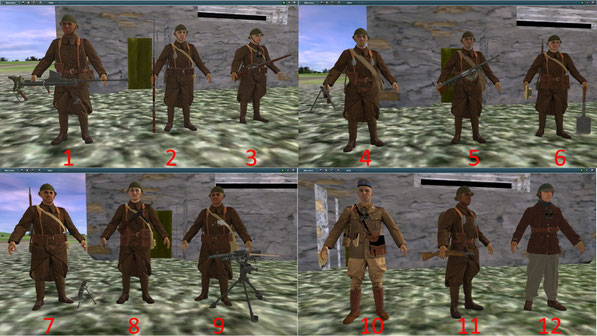 EXCLUSIF !!!
On a retrouvé la 7e compagnie.
1-fusil antichar Boys, pistolet automatique PA 1935a (Rifle Anti-Tank .55 in Boys and Automatic pistol PA 1935a)

 2-fusil Lebel 1886-1893 avec baîonnette, grenade F1 (Lebel 1886-1893 rifle with bayonet and F1 grenade)
 3-Fusil Lebel 1886-1893 avec lunette de tir APX Mle 1917 (Lebel rifle 1886-1893 with APX Mle 1917 rifle scope)
 4-Fusil mitrailleur FM Mac 24 29, pistolet automatique PA 1935a, grenade F1 (Mac 24 29 submachine gun, PA 1935a automatic pistol, F1 grenade)
 5-fusil-mitrailleur FM Chauchat 8 mm CSRG Mle 1915 (Chauchat 8mm CSTG Mle 1915 submachine gun)
 6-Fusil Mas 36, mine antichar à charge allongée ( Mas 36 rifle, elongated charge anti-tank mine.
 7-Fusil Mas 36, Mortier léger Brandt 50mm Mle 1937  (Mas 36 rifle and Brandt 50mm LGR Light Mortar Mle 1937)
 8-Pistolet-mitrailleur PM Mas 38, pistolet automatique PA 1935a (PM Mas 38 submachine gun, PA 1935a automatic pistol)
 9-Mitrailleuse 8mm Hotchkiss Mle 1914 ( 8mm Hotchkiss Mle 1914 machine gun)
10-Sous-lieutenant d'un régiment de cuirassiers ou de blindés.(Sub-lieutenant of a cuirassier or armored regiment.)
11-Carabine Berthier 8mm Mle 1916, pistolet automatique et grenades (Berthier 8mm Rifle Mle 1916, automatic pistol and grenades)
12-Equipage de char Français 1940  ( French tank crew 1940)